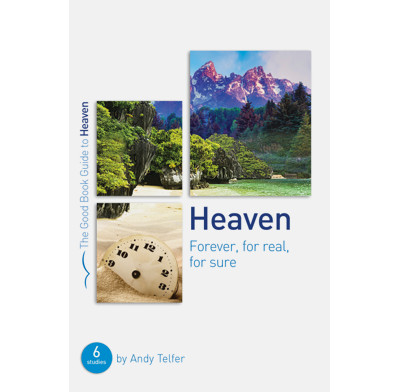 Heaven: Forever, for real, for sure
ebook
6 studies for groups and individuals
Six accessible and flexible Bible studies on the topic of heaven.
Part of the Good Book Guides series.
Heaven is a difficult concept to get your head around. These six studies for small groups look at what the Bible teaches about heaven—that it is God's throne room today—as well as the future new creation.
As we look at the huge implications of these truths, it will affect how we live right here, right now.
Contents
Introduction
1. Heaven and the throne
(Revelation 4 – 5)
2. Heaven and judgment
(Revelation 20 v 11-15; 2 Thessalonians 1 v 3-12)
3. Heaven and resurrection
(1 Corinthians 15)
4. Heaven and earth
(Revelation 21 v 1 – 22 v 5)
5. Heaven and rewards
(Matthew 5 v 3-12; Luke 19 v 11-27)
6. Heaven and hope
(Hebrews 11 v 1 – 12 v 3; 1 Peter 1 v 3-16)
Specification
| | |
| --- | --- |
| Contributors | Andy Telfer |
| Format | Digital (delivered electronically) - PDF |
| Case quantity | 50 |
| Language | English |
| No. of studies | 6 |
| Publisher | The Good Book Company |