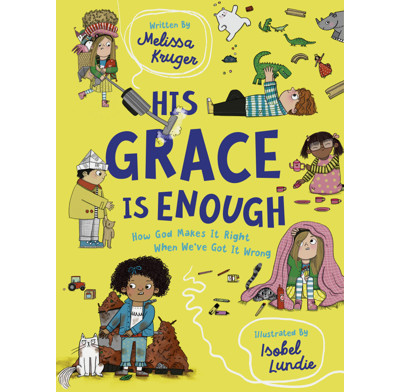 His Grace Is Enough
ebook
How God Makes It Right When We've Got It Wrong
Illustrated, rhyming children's book on the Christian message of God's grace and forgiveness.
This illustrated, rhyming book will help parents explain to children the unique and wonderful Christian message of God's grace—that Jesus offers forgiveness and allows us to move on from our mistakes.
It can be used to share the heart of the Christian faith with children or to remind them that Jesus is the person to run to when they mess up.
Children will learn that God's grace is enough to cleanse and change us every day, as the book itself says...
My child, here's the truth:
From God, you can't hide
He sees what you've done
He knows what's inside
But please don't despair
There's good news, I say!
Whatever you do
God's grace makes a way
Yes, his grace is enough
It's so big and so free
His grace is enough
Both for you and for me
This beautiful hardback book makes a great gift for children ages 3-6 and even beyond.
Written by Melissa Kruger: author of Wherever You Go I Want You to Know and Five Things to Pray for Your Kids; Director of Women's Content at The Gospel Coalition; speaker, blogger, and mother of three.
There is also a board book version for 2-4 year olds available for purchase.
Specification
| | |
| --- | --- |
| Age range: | 3 - 7 |
| Contributors | Melissa B Kruger, Isobel Lundie |
| ISBN | 9781784987619 |
| Format | eBook |
| First published | May 2022 |
| Case quantity | 50 |
| Language | English |
| Publisher | The Good Book Company |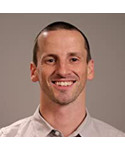 Jeremy Treat
Pastor for Preaching and Vision, Reality LA, Los Angeles, California; Adjunct Professor of Theology, Biola University; author, Seek First and The Crucified King
Endorsement written for His Grace Is Enough
Our family loved His Grace Is Enough! In this book, simple truths are taught through an engaging story and beautiful illustrations. After reading it together, our whole family was encouraged to cling to God's grace. I hope many children and parents are transformed by this powerful message.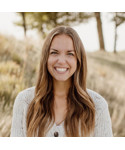 Laura Wifler
Cofounder, Risen Motherhood
Endorsement written for His Grace Is Enough
These are the truths I want deep in my children's hearts, as well as my own! With lyrical lines and beautiful illustrations, Melissa explains the concept of grace in a way that's memorable and easy to understand for children. It's so catchy, you'll find yourself chanting the lines all throughout your day.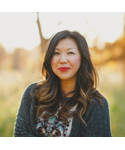 Ruth Chou Simons
Artist and author of GraceLaced; founder of gracelaced.com
Endorsement written for His Grace Is Enough
A delightful way to unpack the grace of God with the kids in your life—it makes deep truths accessible for young and not so young hearts alike.
"Profound presentation"
(Review written for 'His Grace Is Enough')
We are absolutely thrilled that we stumble across the book "His grace is enough." After getting our first few copies, we have ordered many additional copies to give away to different people because the message is so appropriate and timely and well presented. And for young or old! Thank you for sharing your talent with us!
"Sweet Story for Young Readers"
(Review written for 'His Grace Is Enough')
His Grace is Enough by Melissa Kruger is a lovely companion to her first children's book, Wherever You Go, I Want You to Know. This book reads like a mother speaking to a child to teach them that no matter what they do, they can never make themselves right before God. The book begins with illustrations of children who have messed up in some ways and try to right their wrongs by doing really good things.

The mother helps her child know that even if they try their hardest, they can never make their own heart clean before God. She helps them see their need for Jesus and explains how His grace is lovely and free. This story is simple and faithfully communicates the gospel message in rhyming form. The illustrations are lovely and appealing to adults and children alike. My family really enjoys reading these children's books by Melissa Kruger and we hope to read more in this series in the future!

I received His Grace is Enough compliments of The Good Book Company in exchange for my honest review.
"Exactly What I Want to Teach My Kids"
(Review written for 'His Grace Is Enough')
Melissa Kruger just has a way with communicating these very basic, central truths perfectly for kids (& adults!). The illustrations are sweetly drawn, too. This is definitely a must-read!
"Great message! Great illustrations!"
(Review written for 'His Grace Is Enough')
A well written book with a powerful message for kids! Great illustrations. A bit small for a group setting…Would REALLY love if you had downloads of the pictures available for using it in a Kid's Spot at church (like you have for other books from the GBC!) Thanks!
"Best book ever"
(Review written for 'His Grace Is Enough')
I donated this book to my son Christian school his teacher was so impressed and they loved the book and can wait for the coloring version to come out
"Excellent gospel-centered picture book!"
(Review written for 'His Grace Is Enough')
The wonderful and incomprehensible beauty of grace made accessible to children in a lovely picture book. The illustrations are great! There are so many details along with inclusivity of colors and sizes of people. The font is funky and fun to match the playful rhyming words. But, oh the words. They are full of so much Truth!

There were a few things that I especially appreciated in this book:

⭐️The author highlights that being a good Pharisee, trying to do all things right, is just as bad as running away and hiding. We aren't good enough to earn grace. It's "big and free" as the author repeatedly points out.

⭐️It is explicitly stated towards the end of the book that the freedom we have in Christ is not to sin more which is a great reference to Romans 6:15.

⭐️The gospel is clearly conveyed by telling the reader that Jesus died, paid the full price, and gives a new heart to those who believe in Him.

Excellent gospel-centered picture book! Delightful to read over and over.
"A wonderful tool for teaching your kids gospel truth!"
(Review written for 'His Grace Is Enough')
As a member of @thegoodbookcompanyusa's review program, I recently had the opportunity to read @melissabryankruger's new book, "His Grace Is Enough: How God Makes It Right When We've Got It Wrong" aloud to my children. Let me just say, it is a treasure!

The illustrations are bright and endearing (not to mention inclusive of different skin tones, different abilities, etc., which I appreciate!), and the lyrical, rhyming nature of the book is very Suess-esque, which makes it a pure delight.

But more than that is the treasure this book is as a tool to come alongside you in your mission of helping your children understand the gospel and grasp how its implications apply to their own lives. From pointing out that it isn't about trying hard enough to be good enough and the folly of sinning so that grace may abound, to addressing how God's grace enables us to live in freedom, this delightful book is also a rich theological treatise just perfect for the child in your life.

I highly recommend it! 💕



*I received a complimentary copy of this book in exchange for my honest review.
"Faithful to the Gospel"
(Review written for 'His Grace Is Enough')
This book is fantastic. Not only is it theologically sound, it is very relatable for children and for parents. I feel this book is also very helpful for encouraging parents to be gracious to their children and to point to Christ. The illustrations are brilliant and I love the diversity of culture expressed in the book. I think it is great that there is even a man in a wheelchair in the book as there isn't often much representation for people with disabilities. Overall I think this is a great book and it is a very good price.
"Cannot Recommend This Book Enough!"
(Review written for 'His Grace Is Enough')
I love, love, love this little book! What incredible truths are tucked inside for young hearts and minds!

This faith-based book is told from a loved one's point of view, as they share that no matter how badly a child messes up, that "God's grace is so big and so free and it is enough, for you and for me".

The story gives examples of ways a child might do wrong, and then introduces them to the plan of salvation after confirming that no matter how hard a child might try to right their wrongs, working hard is not enough to cleanse a heart. Only God can do that, through His grace, which He offers freely when a child repents and believes God will forgive and has paid the full price of freedom.

With lyrical, melodic text and engaging, illustrations full of color, this delightful book is a favorite new addition to our library!

This book would make an excellent gift to any child in preschool or elementary school and is a must have for a church, school or homeschool library.

* I voluntarily reviewed a complimentary copy of this book from the publisher. All thoughts are my own and I was not required to write a positive review.
"Great Book About Confession, Grace and Forgiveness!"
(Review written for 'His Grace Is Enough')
Written in attention-keeping rhyme with fun, vibrant illustrations, this book teaches kids about God's grace when we make mistakes or mess up.

My favorite thing that I found unique to this book is that it addresses our faulty ways of dealing with these things: hiding, turning toward legalism or efforts to earn our way back from mistakes: No, it says, you cannot clean up or be perfect enough to make up for any sin—no matter how hard you try. But that's the beauty of grace! The key, it teaches, is to confess our sins to God because His grace is ALWAYS big enough to make up for any and every wrong we can and will ever do. And it's that same grace that changes us at a heart level from the inside out.

Many thanks to The Good Book Company for providing a free copy for review.