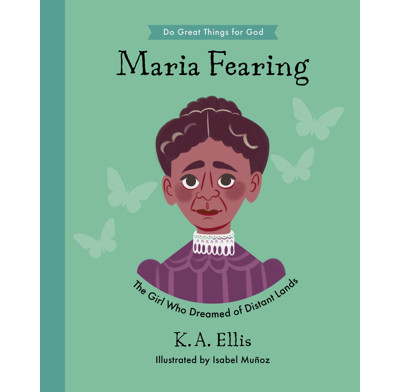 Maria Fearing
The Girl Who Dreamed of Distant Lands
Inspiring children's biography of Maria Fearing, a missionary who shared Christ's love with children in Africa and protected them from slavery.
Part of the Do Great Things For God series.
Read the true story of Maria Fearing, a missionary who shared Christ's love with children in Africa and protected them from slavery.
Once freed from slavery on an Alabama plantation, Maria Fearing went to Africa to show children Jesus' compassion and protect them from being sold into slavery. She even helped translate the Bible so that the children could read it in their own language. Her patience and grit in overcoming incredible obstacles to heed God's call make her a great role model for young children.
This beautifully illustrated children's biography of Maria Fearing (1838-1937) features stylish and quirky illustrations and extra facts at the back, including a biographical timeline with historical photos. It is part of a series designed to show kids that God uses ordinary people to do extraordinary things.
Download free extras, such as worksheets, to help children interact with the true story and think of ways in which they can also follow God and encourage his people today.
These stories can be read to young children or enjoyed independently by early readers. The free extras make these stories useful for homeschool, Sunday school, missions events, and more.
Free extras
Specification
| | |
| --- | --- |
| Age range: | 4 - 7 |
| Contributors | K.A. Ellis, Isabel Muñoz |
| ISBN | 9781784988265 |
| Format | Hardback |
| First published | June 2023 |
| Dimensions | 7.7" x 9.4" x 0.3" |
| Case quantity | 50 |
| Language | English |
| Pages | 32 |
| Publisher | The Good Book Company |
"A wonderful resource"
One of the greatest things I love about reading with my children, is that I get to explore and learn alongside them. This series of books has certainly been a place where this has happened, as I know little about the lives of many missionaries and it has been wonderful to delve into this topic with my eldest. To look at the lives of faithful Christians who have dreamed, sacrificed and used great courage, serving God in extraordinary ways. They are inspiring, child friendly (great for early readers), thought provoking books, with great questions at the end and free resources online to complement them. They would make a great addition to any home or church children's ministry ☺️

The story of Maria Fearing was particularly powerful, as the topic of slavery was one I haven't discussed with my children, so it led to so many good questions and discussion.