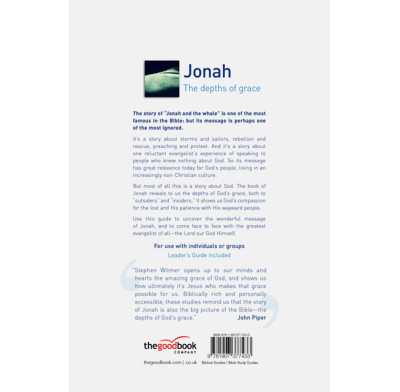 Jonah: The Depths of Grace
ebook
6 studies for individuals or groups
Be amazed at the God of gracious love for his rebellious prophet and for his world.
Part of the Good Book Guides series.
The story of Jonah and the whale is one of the most famous in the Bible: but its message is perhaps one of the most ignored.
It's a story about storms and sailors, rebellion, and rescue, preaching and protest. And it's a story about one reluctant evangelist's experience of speaking to people who knew nothing about God. So its message has great relevance today for God's people, living in an increasingly non-Christian culture.
Jonah's story will encourage believers who find themselves ill-equipped to share God's message with colleagues, friends and family: and it deeply challenges our priorities in life.
But most of all this is a story about God. The book of Jonah reveals to us the depths of God's grace, both to "outsiders" and to "insiders". It shows us God's compassion for the lost and His patience with His wayward people.
Use this guide to uncover the wonderful message of Jonah, and to come face to face with the greatest evangelist of all—the Lord our God Himself.
Contents
Introduction
Why study Jonah?
Timeline

1. Running away - Jonah 1 v 1-3
2. Judgment and mercy - Jonah 1 v 4-16
3. Jonah's fishy faith - Jonah 1 v 17 – 2 v 10
4. Repent, relent, rage - Jonah 3 v 1 – 4 v 4
5. Lesson learned? - Jonah 4 v 5-11
6. Jonah and Jesus - Matthew 12 v 38-42

Leader's Guide
Specification
| | |
| --- | --- |
| Contributors | Stephen Witmer |
| Format | Digital (delivered electronically) - PDF |
| Case quantity | 50 |
| Language | English |
| No. of studies | 6 |
| Publisher | The Good Book Company |
Other information
http://www.chriscastaldo.com/2011/09/18/out-of-the-depths-of-grace-a-guide-to-jonah/
- Chris Castaldo blog
http://thegospelcoalition.org/blogs/tgc/2011/09/27/the-gospel-according-to-jonah/?comments#comments
- Stephen Witmer, Pastor, Pepperell Christian Fellowship, MA
The Good Book Guides have been developed to ensure that each session not only seeks to uncover the meaning of the passage and see how it fits into the big picture of the Bible, but also leads people to apply what they have learned to their lives. Flexible and practical, the Good Book Guides are ideal for small groups, or individual study.
"The format is very user-friendly and the content is rich and accessible."
- Justin Taylor, Gospel Coalition blogger and Vice-President of Editorial, Crossway
"God-centered, application-oriented, and driven by the text throughout, this resource is a gift to God's church."
- Matt Smethurst, Gospel Coalition reviewer and Master of Divinity student at The Southern Baptist Theological Seminary
Here at Covenant Life Church, we have greatly benefitted from the small group resources from The Good Book Company. Many small groups in our family life ministry have used "Colossians: Confident Christianity" in their study of scripture. Additionally, our youth ministry has used "Romans 1-5: God and You" in their small groups. Both resources were very easy to use, helped the reader engage directly with the scriptures, and had a wonderful pastoral emphasis demonstrated in all the questions.
- Dave Brewer, Youth Pastor at Covenant Life Church, Maryland
"God is in control"
We all now this great story.
But i never looked at the detail, the full picture.
To see Gods plan played out in detail.
This book encourages you to look at the underlying detail and story