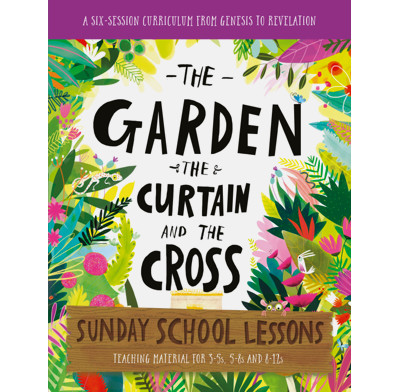 The Garden, the Curtain and the Cross Sunday School Lessons
ebook
A Six-Session Curriculum from Genesis to Revelation
A six-session Sunday School curriculum, based on the bestselling book The Garden, the Curtain and the Cross showing kids the whole Bible story and the glory of the cross.
Part of the Tales that Tell the Truth series.
This six-session Sunday School curriculum is based on the bestselling storybook The Garden, the Curtain and the Cross and takes kids on a journey through the Bible from Genesis to Revelation, thrilling them with God's loving determination for his people to enjoy life with him.
Featuring age-differentiated lesson plans for 3-5s, 5-8s, and 8-12s, this flexible resource will work for any size of kids' group and is easy to use for any leader. Can be used for vacation Bible school, or church over the summer. Also perfect for Homeschool Co-ops.
Includes activity, craft, game, and music ideas, along with an exclusive link and password for free downloadable resources.
Linked with other products in The Garden, the Curtain and the Cross range:
• Storybook for 3-6s
• Board book for 1-3s
• Coloring and Activity Book for 5-8s
• Full size images to use in presentations if reading to a large audience or to show on a screen
• An Easter Calendar including a 32-page book of devotions for families with children 5-8
Specification
| | |
| --- | --- |
| Contributors | Lizzie Laferton, Carl Laferton |
| ISBN | 9781784987176 |
| Format | eBook |
| First published | February 2022 |
| Case quantity | 50 |
| Language | English |
| Publisher | The Good Book Company |
"Excellent!"
Our church has been using these lessons this summer as a 6-week series for our 3-year-olds through Kindergarteners. It breaks the book into small chunks, so the kids really focus on each concept (perfect creation/the fall/separation from God/redemption in Christ/resurrection/new perfect creation). Kids hear separate Bible stories all the time, but this is a nice sweeping arc of the Gospel approach that works well for our smaller summer attendance. Good craft ideas and ways to make the read-aloud interactive for kids. I wish there was more curriculum like this!
"Excellent"
This is a very comprehensive resource. I like that it is divided into age groups. We are using the youngest age group. It is a lovely way to teach from creation to the. Cross.
"Terrific resource"
(Review written for 'The Garden, the Curtain and the Cross Sunday School Lessons')
Our church adapted this curriculum for a three-night Vacation Bible School and it worked great. The curriculum itself adapts the storybook so well, telling the big picture of the gospel through the lens of God's desire to dwell with his people. This curriculum offers great ideas for interactive teaching, crafts, and games as well. Highly recommend!