The Porn Problem
ebook
Christian compassion, convictions and wisdom for today's big issues
A short book to help Christians know how to think about pornography
Part of the Talking Points series.
Pornography is no longer universally looked down on as bad or unhelpful, but is often seen as something to enjoy without guilt.
Christians, however, work to a different agenda—one set by the Bible's revelation of the true meaning of sex and relationships.
This short book surveys the Christian worldview and applies it to the complex issues surrounding pornography, helping Christians know how to think about pornography with biblical conviction, and compassionate understanding for those influenced by it.
Discover the liberating and satisfying view of sex found in the gospel.
Contents
Introduction
1. Culture
2. Compassion
3. Convictions: Creation
4. Convictions: Fall
5. Convictions: Redemption and Glory
6. Wisdom
Further reading
Specification
| | |
| --- | --- |
| Author | Vaughan Roberts |
| ISBN | 9781784981983 |
| Format | Digital Download |
| First published | January 2018 |
| Language | English |
| Pages | 96 |
| Publisher | The Good Book Company |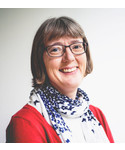 The world of pornography is a confusing place. Those of us who have never used it, fail to see its appeal. Those of us who have, often struggle to escape its grip. All of us, however, need to equipped to engage with the profound impact it is having on our culture, our churches, our colleagues and our children. This book is a great place to start. In his usual biblical, accessible style, Vaughan Roberts leads us through an overview of one of the 21st century's biggest challenges and in the process provides us with faithful fuel for our conversations and Christ-centered hope for the hurting.
"Excellent"
(Review written for 'The Porn Problem')
Roberts shows a better way rather than a simple either or scenario. Makes some very good points about our sexuality. No hesitation in recommending.
"Excellent!"
(Review written for 'The Porn Problem')
I read this is to equip myself as a volunteer youth worker to be able to come alongside young people growing up in the current culture. It's short, accessible, honest, gospel-focused, and compassionate. I would highly recommend it both to those working with young people and to young people themselves. An excellent resource!
"Excellent"
(Review written for 'The Porn Problem')
Finished this already. It's not quite the slam dunk "Captured by a better vision" is, but is about a quarter of the length! I found it very helpful after some of these days over Christmas were on the worse side. Definitely a resource that I was longing for as a 15/16 year old when Dad found my addiction to porn. Vaughan gives clear gospel reasoning, motivation and a better alternative rather than just a "no". Discussion guide looks good to me too, quite open questions that engage well with where culture is at with porn.