The Best Book for Each Person on Your Christmas List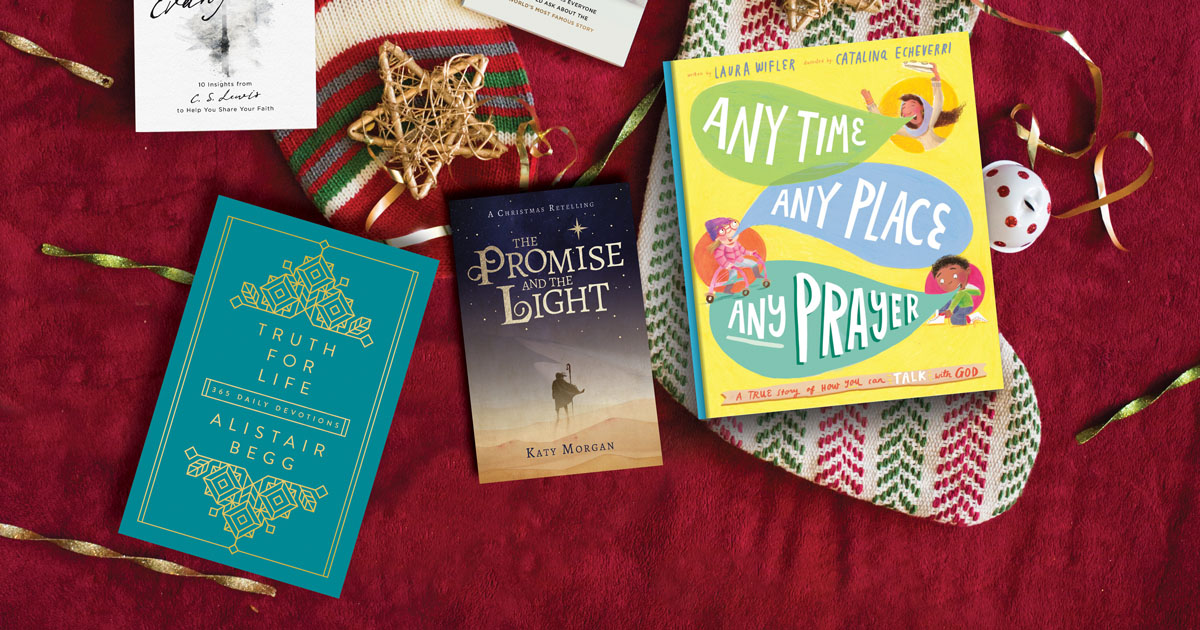 Unsure what to give your loved ones this Christmas? Fret not—we've compiled a list of the perfect read for everyone on your list.
With prayers designed for kids of all ages, this deep and doable guide highlights 21 key areas of spiritual growth and character development. For each one, there are five short prayer prompts drawn straight from the Bible.
Browse other family and parenting books
5 Things to Pray for Your Kids
$5.99
$5.09
Fresh, biblical ideas to help you pray for tots, teens and all ages between.
This book contains 30 biblical meditations to gently encourage any woman who is struggling with suffering—whether physical, emotional or psychological, and whether for a season or for longer.
Browse other mental health books
Hope When It Hurts
$19.99
$16.99
Thirty biblical meditations that offer women hope in times of suffering.
For the One Who Loves Scripture: Truth for Life
This daily devotional is composed of 365 gospel-saturated devotions written by esteemed Bible teacher Alistair Begg. Complete with a hardback cover, dust jacket, and ribbon marker, this devotional makes the perfect gift for your Scripture-loving friend.
Browse other devotionals
Truth for Life
$22.99
$19.54
A year of gospel-saturated daily devotions from renowned Bible teacher Alistair Begg.
For the Person Concerned About a Loved One's Salvation: Mere Evangelism
Inspired by the writings of C.S. Lewis, Randy Newman's book on evangelism will equip you to share your faith using Lewis' imaginative methods.
Browse other books about evangelism
Mere Evangelism
$16.99
$14.44
Let C.S. Lewis inspire and equip you to share your faith.
For the Seasoned, But Perhaps Weary, Believer: Truth on Fire
We don't need to choose between a passionate faith and a thoughtful one. This book shows the worn-out believer that they can know God truly and experience him deeply.
Browse other books on culture
Truth On Fire
$16.99
$14.44
Knowing God truly, experiencing Him deeply.
The Promise and the Light is a captivating retelling of the Christmas story for older children. Written in a lively and engaging style with first-person narratives, this chapter book explores the experiences of Mary, Joseph and Zechariah in a biblically faithful way.
Browse other books for tweens
The Promise and the Light
$12.99
$11.04
Captivating retelling of the nativity story. Great Christmas gift for kids who love to read.
This Bible storybook teaches kids how to pray—any time, any place, about anything. It even includes Jesus' teaching on the Lord's Prayer to help children know how to pray! Gift it with the Art and Activity book for even more fun.
Browse other books for kids
Any Time, Any Place, Any Prayer Storybook
$14.99
$12.74
Teach kids how to pray with this beautifully illustrated Bible storybook.
Have you struggled to engage a little one with the story of Jesus? This beautifully illustrated board book is loaded with New Testament stories and more than 450 hidden things to find and count!
Browse other books for 0-3 year olds
Seek and Find: New Testament Bible Stories
$14.99
$12.74
Seek-and-find activity book exploring New Testament Bible stories.
Looking for books themed for Christmas or recommended as gifts?
Browse our selection of Christmas books for all ages, including family devotionals for Advent.