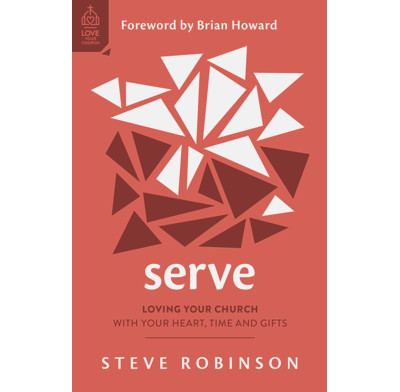 Serve
ebook
Loving Your Church with Your Heart, Time and Gifts
Let the gospel of Jesus and the example of Jesus motivate you to serve your church sacrificially.
Part of the Love Your Church series.
This book looks at the gospel of Jesus and the example of Jesus to motivate us to serve our church family sacrificially with our energy, time, and gifts.
This is a great book for Christians who have grown weary over time, those who need help in identifying their gifts and gaining the confidence to offer them, and church members who are lacking the motivation to get started.
As we look to the example of Jesus, who "came not to be served but to serve, and to give his life as a ransom for many" (Mark 10:45), we will be excited and equipped to use what God has given us to serve others with a renewed sense of purpose and joy. We will also see that we do not need to have any particularly impressive gifts or emulate anyone else in order to answer Jesus' call to love one another.
Written by Steve Robinson, Director of Acts29 UK.
There are discussion questions at the end of every chapter with action steps, making it ideal to read as a small group or even a whole church. Accompanying free downloads are available that can be used for small groups. There are downloadable worksheets, a PDF version of the book's discussion guide, introductory videos for each chapter, and more.
This book is part of the Love Your Church series from Acts29. This collection of thoughtful and practical books will inspire every church member with a biblical vision of what it means to be a local community of God's family. Church members can explore together what it means to belong, to welcome, to gather, to care, to serve and honor one another, and to witness and send people out to spread the gospel.
Specification
| | |
| --- | --- |
| Contributors | Steve Robinson, Brian Howard |
| ISBN | 9781784989170 |
| Format | eBook |
| First published | October 2023 |
| Case quantity | 50 |
| Language | English |
| Publisher | The Good Book Company |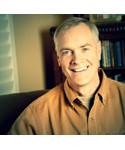 Ray Ortlund
President, Renewal Ministries
Endorsement written for Serve
In this world of swagger, Jesus calls us not to be served but to serve—him, one another, and the whole world. That happens beautifully as we come together in churches with our Lord's servant heart. Thank you, Steve, for writing this book and inspiring all of us to give our hearts away!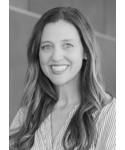 Jen Oshman
Author, Enough About Me
Endorsement written for Serve
I was so strengthened by this book. Steve Robinson gets right to the heart of many barriers church members face when we don't know where or how to serve, or when our passion to serve runs dry. This book is chock-full of Scripture, wisdom, and helpful stories. It's motivating rather than guilt-inducing, uplifting rather than overwhelming. Read it with your friends from church and be encouraged and equipped to start serving—or keep serving—
together!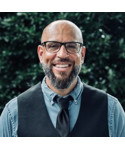 Tony Merida
Pastor, Imago Dei Church, Raleigh, North Carolina
Endorsement written for Serve
Steve points us to a critical and often underdeveloped element of life in the body of Christ: service to one another. Serving, as he points out, is an essential and inescapable part of the Christian life. Where has God placed you? How has he made you? What opportunities are in front of you? Live in light of your King, and lovingly serve him by serving those around you.
"A great intro to the subject"
(Review written for 'Serve')
What does it look like to serve the Lord and serve Him well? Steve Robinson argues that service to God starts with us serving in the local church.

In this short and easy read, Robinson walks the reader through effective service in the local church by helping us to first understand who and why we serve.

He shows us what it looks like to be a good and faithful servant before directing us on the best ways to serve—as the person God has made you to be with what He's given you right where has placed you.

The book did what it aimed to do. It was convincing, but it didn't feel like it was new or fresh material. I suppose it felt like common sense in many ways. This is why I didn't rate it higher, but I do still think it's worth the read—especially for new believers or those discipling others.

I received a copy of this book for free from The Good Book Company in exchange for this honest review.
"Helpful introduction to serving"
(Review written for 'Serve')
Serve is a nice little book that explores what the Bible says about serving, who we serve, why we serve, and how to use our gifts and weaknesses. The book initially piqued my interest because I love serving and have never seen a book exclusively on this topic.

Of the book's interesting insights, one that struck me most was the motivation for serving. Robinson explains we must serve because of Jesus, not our love for good works or other people, but Jesus alone. If our motivation for serving is others or pleasure in the work, we will stop serving when we don't love the people or the work becomes cumbersome.

Robinson writes, "As Christians, the 'why' of our serving can't be any less (and needn't be anymore) than Jesus—because, if it is, when circumstances of our lives or the conditions of our service change, we will walk away—either literally or emotionally. We need to remember that the 'why' behind our perseverance is something and someone that never changes."

I also appreciated Robinson's encouragement to serve and trust God's grace despite our weaknesses. My main criticism of this book is the excessive use of personal stories and anecdotes to illustrate points—at least two or three per chapter. Most of these stories were unnecessary, and I was not interested in learning that much about the author's personal life.

Furthermore, at 112 pages (20% of which are anecdotes), this book is quite elementary and does not provide a deep analysis of serving.

Overall, Serve is a useful book that explains how to serve well for the glory of God. I recommend it primarily to new believers or Christians with little knowledge about serving, as the material is a bit basic.

*The Good Book Company graciously gave me a copy for an honest review.*
"In the Strength that God Supplies"
(Review written for 'Serve')
What is it exactly that God's people are supposed to do? In Serve, Steve Robinson writes on loving your church with your heart, time, and gifts. Robinson begins by boldly declaring that we are supposed to serve God and not ourselves.

I was most moved to read about the reason or why we serve. In church settings, Robinson says he typically hears that people serve because we love God's people. While that is a good reason, it simply is not good enough. He pointedly asks: What happens when you stop loving the people? He takes us to Romans 12:1, explaining that it must be God's mercy that moevs us to serve. We serve because Jesus first loved us, and so we serve because Jesus first served us. I was convicted to check my motives and recalibrate them towards Christ.

In the Strength that God Supplies

In a memorable and practical chapter, Robinson shows how God shapes us for service. Surprisingly, Moses and Paul both served out of their experiences and weaknesses. I was reminded that God can use anyone for his purposes. Moreover, God has given each a spiritual gift to exercise for the good of God's people. I was motivated to celebrate the gifts of others more than my own – especially the gifts that we might not see on a stage – by offering encouragement and support.

Robinson closes with a call to serve where God has placed you, especially in regards to your local church. He exhorts us to serve in the strength that God supplies. This book is clear and compelling. I am motivated to spur each other on in love and good works, and to continue serving – eager to hear my King say, "Well done, good and faithful servant."

I received a media copy of Serve and this is my honest review.
"Great for a small group"
(Review written for 'Serve')
Serve: Loving Your Church with Your Heart, Time and Gifts by Steve Robinson. I found this to be an easy and helpful read when thinking about serving. Robinson paints a picture of who we serve, why we serve, and how to serve. I especially appreciated his focus on serving where God has placed you and with the gifts he has given you. It is so easy to compare yourself to others and wishing you had their gifts to serve with but that diminishes how God has uniquely gifted you. There is great Biblical support for each topic covered in the book allowing the reader to have a strong Biblical foundation for serving.
At the end of each chapter there are some questions for action steps and then an entire small group resource at the end of the book. This book would be great to go through as a small group and is a great introduction book on serving your local church.
"Simple, Encouraging Advice"
(Review written for 'Serve')
3.5 stars, rounded up.

In this new addition to the Love Your Church series, Steve Robinson addresses theological ideas and practical considerations for how Christians should serve the church. He encourages believers to recognize that even though it's tempting to highlight our love for others as the main motivation for our service, our primary motivation should be to serve and honor Christ, since loving other people won't be enough to keep you going when things get hard and those people let us down. He writes about what faithful service means, and he explores ideas for how you can discover gifts, get started with service, and contribute in a way that fits with your current life season. I appreciated Robinson's acknowledgement of how people with disabilities and other challenges can still participate in the life of their church and help others.

This book is short, simple, and practical, but it is also very basic. Robinson doesn't engage with deeper issues like dealing with burnout, conflict with ministry partners, guilt trips, or spiritual manipulation. Also, even though he mentioned many different ways that people can help out, I felt that he focused too much on the activities of the local church alone. That's an understandable focus, given the nature of this series, but I think this book would be stronger if he had addressed ways that local churches and nonprofits often join together to help people in the broader community.

"Serve" is a basic introduction to how Christians can serve God by contributing to their church communities. It could be helpful for small groups to read this to talk about service and recognize different people's gifts and contributions, but because this is fairly basic, I would mainly recommend it to new believers, and to people who have never really thought about serving in church.

Note: I received a free copy from the publisher in exchange for an honest review.
"Encouraging"
(Review written for 'Serve')
This quick and easy read brings about motivation and encouragement to serve the church and our communities.
With a focus on who and why we serve, Steve Robinson does a great job at using scripture to teach biblical wisdom, and motivate readers.
I think this book would be a great resource in a small group study, as it has the potential for great discussion points!
"Encouraging"
(Review written for 'Serve')
This quick and easy read brings about motivation and encouragement to serve the church and our communities.
With a focus on who and why we serve, Steve Robinson does a great job at using scripture to teach biblical wisdom, and motivate readers.
I think this book would be a great resource in a small group study, as it has the potential for great discussion points!
"Would be great for a small group!"
(Review written for 'Serve')
Sometimes you read a theology or Christian book that is mostly conceptual and ends up being hard to apply to real life. Serve is not one of those books! The length is short enough that it's not intimidating. The writing is engaging which keeps your attentional well. And most importantly, the content is biblically solid and so practical.

I think this book would be a great read for a church to have small groups go through together or to have new church members read as they join the church.

Even though I've been part of a church body for many years and actively serve on a weekly basis, this book offered me many good reminders and encouraged me with who I'm serving and why I'm serving Him.

I definitely recommend this one and am excited to read more in this series.
"Inspiring"
(Review written for 'Serve')
"So when you are the only person picking up the bulletins from the floor after the Sunday service or stacking chairs when everyone else has left; when you're driving home after preaching your heart out and no one has thanked you… or when you're just tired of serving and giving and you start to ask the question: why am I doing this?… the "why" behind your service is Jesus, who, in love for you, gave everything for you."

Steve Robinson does a fantastic job of envisioning the church to serve in this short, punchy, easy to read book. At several points I felt my long held (somewhat unconscious) views towards service challenged, in a positive way. I had ungodly feelings revealed for what they are, and I left feeling truly grateful for the privilege I have to serve God in my local church.

He takes you on a journey, looking at who we serve, and why. Followed by what that looks like in terms of how He has made us, what He has given us and where He has placed us. As he does this he addresses the biggest stumbling blocks to our service, such as not believing we are qualified or waiting for not knowing what our gifts are.

If you feel like you are just going through the motions when serving, this book will re envision you. If you're serving with a heart of disappointment or resentment at how much you're doing and it not being recognised, this book will challenge you to consider who it is you are serving and why. If you aren't yet serving, this book may just fill you with excitement to start doing so. All Christians would receive benefit from Steve's vision casting here. 🙌

I'd recommend this as a great book to discuss in a small group setting, particularly as if feels accessible for all. 👏

Thank you for sending this copy in exchange for my honest review
"great challenge"
(Review written for 'Serve')
This is one of several great books in the Love Your Church series by The Good Book Company. Each are written by different contributing authors and each have their own unique encouragement for believers who are part of a church body.

This particular book in the series focuses on the service believers can do through and for their Church which is ultimately an act of worship to the Lord. There is a great joy that we can experience through serving rather than a burdensome feeling of obligation.

The book is structured with six chapters:

- Who Do We Serve?

- Why Do We Serve?

- Good and Faithful Servant

- Serve as the Person God has made You to be

- Serve Where God has Placed You

My favorite chapter was Serve as the Person God Has Made You To Be. Robinson did a wonderful job of making us realize most of the time, our service can be joyful because God created us to serve and created us with unique skills and passions to serve from. Often we don't recognize our spiritual gifts or our passions and thus we serve from a place of obligation.

Each chapter concludes with an Action Steps section. This section provides several practical options for the reader to implement in their lives in order to increase their joy in serving.

Robinson includes a short discussion section for small group study as well. This is short but allows itself to become a sweet, challenging time for a group of believers to hold each other accountable in their act of worship through serving.

He writes with honest reflection on his own life experiences, scriptural support for our need to serve our God and practical wisdom and advice on how to pursue being the best servant God created you to be.

This is a wonderful book to reignite your desire for serving.

I received a copy of this book from The Good Book Company in exchange for an honest review.