Fanny Crosby
The Girl Who Couldn't See But Helped The World To Sing
Inspiring children's biography of Fanny Crosby, who was blind from a young age but blessed with extraordinary musical ability.
Part of the Do Great Things For God series.
Baby Frances—or Fanny, as everyone called her—was only six weeks old when she became blind. "What a pity you can't see," people often said. "The first thing my eyes will ever see will be the face of Jesus in heaven," she'd reply. And this filled her with joy.
Not only was Fanny a happy girl, always looking for reasons to be thankful, she was also blessed with extraordinary musical ability.
Follow her inspirational story to discover how she wrote some of the world's most famous hymns, such as To God Be the Glory and Blessed Assurance.
This beautifully illustrated children's biography of Fanny Crosby (1820-1915) is part of the Do Great Things For God series which shows how God uses ordinary people to do extraordinary things. It will enthuse young children about the great things they can do for God.
Can be read to young children aged 4-5, and read by children aged 6 plus.
Worksheets are available to help children interact with the biography. Can also be used for Homeschool Co-ops.
Contents
Fanny Crosby: Illustrated Biography
Further notes about Fanny for adults and older children
Free extras
Specification
| | |
| --- | --- |
| Age range: | 4 - 7 |
| Contributors | Laura Wickham, Jess Rose |
| ISBN | 9781784987473 |
| Format | Hardback |
| First published | September 2022 |
| Dimensions | 7.7" x 9.4" x 0.3" |
| Case quantity | 50 |
| Language | English |
| Pages | 24 |
| Publisher | The Good Book Company |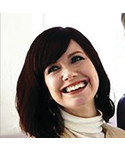 Kristyn Getty
Author, lyricist and worship leader
I am so excited about this book! Our singing of the Lord shapes who we are more than we often know, and Fanny Crosby's deep joy dances towards each new generation through the song of her writing and the song of her life. Her voice helped me find mine.
"wonderful"
I have been loving this series. It provides the life story of some incredible Christian women who made brave decisions for the Gospel.

I had the privilege to read a few of the other books in the series and since we thoroughly enjoyed them, we had the same expectation of this newest release.

The book details Fanny Crosby's life from infancy to death, focusing on her deliberate choice to follow God's calling rather than succumb to her human disability. It's fascinating, even as an adult, to learn that Crosby was the author of so many of our beloved hymns. Children of all ages would enjoy this story but it is written specifically for children between the ages of four to eight.

The illustrations are beautiful, delightful and captivating. The details are are wonderful.

I appreciate that author Laura Caputo-Wickham concluded the book with a life timeline of Crosby's important happenings. This was a fun summary of her writings completed for God.

I received a copy of this book from The Good Book Company in exchange for an honest review.
"A Beloved Series In Our Home!"
Parents and caregivers with girls - please add this beautiful new release to your collection! I absolutely adore the Do Great Things for God series. This is a wonderful starter biography set for young children featuring women of faith!

We love the Betty Greene and Gladys Aylward books from this series, reading them at least once a week, sometimes more. So when Fanny Crosby became available, I was excited to add her story to our collection. These stories inspire both boys and girls alike with women who simply stepped out in faith and followed God's call for their lives, becoming incredible influences for the Gospel and pillars of the Christian faith.

Fanny Crosby was an incredible woman whose hymns are still beloved favorites of many generations. This book tells the story of her life and offers children a look into how she became a hymn writer. It is inspiring, sweet and offers beautiful illustrations. It shows children how much Fanny loved Jesus and never allowed her blindness to hinder her or steal her joy. I love that this storybook is easy for my 4 year old to understand and also encourages her to pursue a life after Jesus and allow Him to use her in big and mighty ways, just like He did for Fanny Crosby. Hands down, a must have for a little girl's library and very useful for homeschooling families and school/church libraries too!

* I voluntarily reviewed a complimentary copy of this book from the publisher. All thoughts are my own and I was not required to write a positive review.
"Excellent Children's Biography"
The Do Great Things for God series is a great set of books, and we recently ordered a set of the Elizabeth II books to give away for our Jubilee services. This newest book in the series about Fanny Crosby is a lovely addition to the series, briefly telling the story of her life as she wrote songs that continued to be loved by many. The whole book points towards her unwavering hope in Jesus. I also appreciate that not only do you get the simple story but also a timeline with more detail at the end of the book. A lovely gift for a younger child to learn more about an inspirational Christian.
"An Inspiring Lady"
This is a lovely children's book, looking at the life of Fanny Crosby, who lost her sight when she was only 6 weeks old, and led an inspiring life. A life of using what some would see as a disability, to enhance her abilities.
The loss of her sight meant her other senses were used more, especially her ability to listen, which when coupled with a creative gift of writing poetry and verse, led her to become one of the most prolific and inspired writer of hymns. Many are still used in churches around the world today.
When asked, she guessed that she had written over 5,000 hymns through her life, but in reality it was probably double that by the time she died in 1915, aged 95.
This is a lovely book, sweetly illustrated.