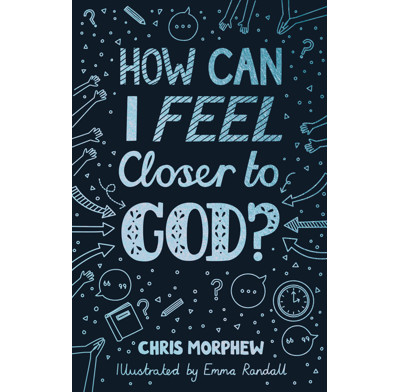 How Can I Feel Closer to God?
ebook
Tools and tips for 9-13-year-olds for growing their relationship with Jesus and making faith a real part of their lives.
Part of the Big Questions series.
Sooner or later, kids ask big questions about themselves and their faith: If God is real, why doesn't he feel real? How can I make him seem less far away? What does a relationship with Jesus actually look like? What about when going to church or reading the Bible just feels boring and pointless?
Christian Studies teacher and school chaplain Chris Morphew has been answering big questions from kids for over a decade. In this fun and fast-paced book, he shows children how to grow in their relationship with God through the ordinary yet powerful habits of everyday discipleship: prayer, Bible reading, church community, rest, and simplicity.
Lively stories and illustrations make this book easy for 9-13s to engage with. Readers will be helped to develop a vibrant, living, and life-altering faith of their own as they learn to walk with Jesus day by day.
Chris Morphew has written over 20 books for children and youth, including Best News Ever, a 100-day devotional for tweens, and other titles in the Big Questions series.
Emma Randall has illustrated many books, including Diary of a Disciple.
Big Questions is a series of fun and fast-paced books walking kids aged 9-13 through what the Bible says about some of the big questions of life, and helping them to grow in confident and considered faith.
Contents
1. If God Is Real, Why Doesn't He Feel Real?
2. What Do I Have to Do?
3. Why Does It All Feel So Hard, Boring, and Pointless?
4. How Do I Get Started?
5. How (and Why) Should I Pray?
6. How (and Why) Should I Read the Bible?
7. How (and Why) Should I Do All This with Other People?
8. How Much Space Should All This Take Up in My Life?
9. How Do I Figure Out What God Wants Me to Do?
10. Putting It All Together
Specification
| | |
| --- | --- |
| Age range: | 9 - 13 |
| Contributors | Chris Morphew, Emma Randall |
| ISBN | 9781784988517 |
| Format | eBook |
| First published | March 2023 |
| Case quantity | 50 |
| Language | English |
| Publisher | The Good Book Company |
"Charitable and Practical for Christians Young and Old"
(Review written for 'How Can I Feel Closer to God?')
Adults aren't the only ones who often wonder why they don't feel anything towards God. Or why reading the Bible or going to church often seems so hard, boring, or pointless. Kids ask these questions, too!

What should we do when we are feeling this way? What are we even supposed to feel?

Chris Morphew is always so charitable and walks us through some really great questions about our friendship with God. He doesn't just give cliche answers but gives thoughtful and biblical responses along with helpful and practical tips that are rooted in grace.
"Superb Series of Big Question Books"
(Review written for 'How Can I Feel Closer to God?')
This is a great series of books for teenagers who are asking big questions about faith. I've really enjoyed being able to recommend these to young people in our youth group and this book is just as good. It's a great overview of a theology of closeness to God and how we can feel like Jesus walks alongside us in all of our lives. If you have a child in the older-end of primary school or at secondary school who is already considering faith, this would be a great read for them
"A Question We all Must Ask"
(Review written for 'How Can I Feel Closer to God?')
Sometimes God just seems so far away. Our problems seem so overwhelming to us, and Mr. Morphew, with his experience of working with children, understands those feelings.

Mr. Morphew writes in a very easy-to-read manner and within these chapters he clearly presents God's message on how to be saved and then goes on to how to get closer to God.

His step-by-step, conversational directions are right on target, and he encourages the reader to continue with their increasing habit of Bible reading, fellowship, discipleship, and service.

I highly recommend this book to any tween, teen, or even an adult. This book would be a great addition to any church library or Sunday school shelf.

Thank you to The Good Book Company for this complimentary copy of the book, this is my honest review.
"Perfect for Tweens and Teens"
(Review written for 'How Can I Feel Closer to God?')
I have been impressed with each book in the Big Questions series so far, and this is another great installment. Chris Morphew is a teacher and school chaplain at a Christian school, and his experience interacting with kids comes through clearly. He knows how to answer spiritual questions from kids in satisfying ways, and he uses humor and illustrations they will relate to as he explains different points. Although the previous books in this series have focused on weighty theological questions, this one gets into the practical experience of trying to live out your faith.

Morphew acknowledges that God doesn't always feel real to us, and writes about the differences between having factual knowledge of someone versus having a relationship with them. He writes about how the Christian life involves friendship with Jesus, and shares practical examples of what this can look like in real life. In short, highly readable chapters, Morphew writes about why it matters to pray, read your Bible, and attend church, and about how someone can build these habits and deal with issues like feeling bored or distracted. He acknowledges that spiritual disciplines can be a struggle, but that as we practice and experience growth, they will become easier. Morphew also includes a helpful chapter about what it actually means to pursue God's will, aside from the stereotypes of church culture.

"How Can I Feel Closer to God?" is a great book for tweens and teens. This will appeal to readers who are brand new Christians, and to those who have professed faith at a younger age but are figuring out what the Christian life looks like for them now that they are older and can take more personal responsibility for their relationship with God. The short chapters and conversational style will help this book appeal to a broad age range, and I highly recommend this resource along with the rest of the series.

Disclaimer: I received a free copy from the publisher in exchange for an honest review.
"God is Bigger Than Our Feelings"
(Review written for 'How Can I Feel Closer to God?')
What can you do when God feels far away? In How Can I Feel Closer to God? Chris Morphew shows you how to grow your friendship with Jesus through some simple yet powerful habits.

This short book acts as an introduction to the spiritual disciplines. Meant for ages 9-13, it presents prayer, Bible reading, and church fellowship in an interesting and accessible way.

Get to Know God

What I most appreciate is Morphew's way of writing to young readers. He is instantly relatable by talking about social media and other distractions that can take us away from God. But he challenges all of those who say that we don't have enough time by calling us to look at our screen time. I would be embarrassed if anyone actually saw how much time I spend on my phone! This book helped me get some perspective on what really matters.

I was most interested to see how Morphew explained that it takes a while to get to know God. We cannot download the Bible and all of the knowledge about God overnight. Just like our deepest friendships are typically the ones we spend the most time with, we are called to spend our days walking along with our Lord. In fact, God wants all of our life — not just a slice of the pie.

God is Bigger Than Our Feelings

The book closes by saying that God is bigger than our feelings. Even when we don't feel close to God, the truth is that Jesus does not abandon us and he is with us wherever we go. This is a beautiful truth, especially for young people, as loneliness remains a problem in this world.

Practical, thoughtful, and helpful — this book will feel closer to God by following him in the spiritual disciplines. Come and find rest for your soul.

I received a media copy of How Can I Feel Closer to God? and this is my honest review.
"Such a great reminder of how to draw closer to God."
(Review written for 'How Can I Feel Closer to God?')
Chris Morphew has a way of taking big complex questions and breaking them down into simply subjects that anyone could understand. As He has continued on writing more books in his series Big Questions, I have sought out every book simply because I have learned so much from this series.

As a Christian we know that our walk with the Lord will not be easy and we are told to look to the Lord through everything that happens, but we are not told what to do during hard seasons. We know that we are called to draw close to God and He will draw close to you but we are not given practical ways on how to grow closer to God during those hard time.

In this book we are able to see simple steps that will not only increase your prayer time, but it will also increase your time in the word. It teaches that in the same way you keep up a friendship, that it the same way we ought to keep up our relationship with the Lord. These steps were more geared towards children but I also think that this is a simple way for a struggling Christian to make their way back to God. It allows the person walking through this hard season to see that sometimes the smallest steps have the greatest impact.

I think the biggest thing that struck me in this book what the quote from Jon Tyson, "God, where have you already been working to grow your kingdom and share your love-and how can I get on board with that?" So often I forget that God is at work even when I cannot see it. This is a simple prayer but if I am honest this is not one that I pray often for. This was a great reminder to ask the Lord to use me in ways I never thought possible.