Family life is often very busy! There are so many things competing for time and attention. Kids are also influenced by many different things. How can we make sure that we are making the most of our time with our children to lead them spiritually? And what is the best approach? 
This practical guide gives parents a systematic approach to discipleship that goes beyond rote memorization. Author Chris Swain applies to the family context the principles of discipleship that Jesus teaches in Scripture to help you make the most of the time you have with your kids, to both lead them to Jesus and to encourage them to be like Jesus.
"Discipleship happens when we spend intentional time with our children. It is in these moments that God writes his word on their hearts. He does the writing, but we help create the atmosphere for this to take place." (From the introduction to Write It On Their Hearts.)
Write It On Their Hearts features: 
• a model of discipleship developed by Replicate Ministries that is based on Jesus' encounters with his disciples 
• a discipleship plan that you can tailor to each child 
• practical help and advice for Christian parents on how to disciple their kids
Author Chris Swain served most recently at Long Hollow Church in Hendersonville, Tennessee, as Disciple-Making Pastor and CEO of Replicate Ministries, training the local church to make disciples. Chris served in full-time ministry for over two decades after proudly serving in the United States Marine Corps. Chris passed away in 2021, but the words he leaves here reflect his devotion to his family and to making disciples.
Co-author Melissa Swain spent nearly 23 years as a pastor's wife and is a mom, homeschool teacher, writer, and editor. Chris and Melissa lived all over the South, serving in various ministries, but she now calls Hendersonville, Tennessee home, along with her two children and the family dogs.
The list of endorsements at the front of this book contains endorsements from Johnny Hunt and Ronnie Floyd, both of whom are subjects of the recent Guideposts report into sexual abuse within the Southern Baptist Convention and the SBC Executive Committee's response to allegations of abuse. Write It On Their Hearts was printed before that report was published, and we will remove these endorsements when we reprint. In the meantime, we wish to apologize for any concern or distress that is caused by the presence of these endorsements in this book.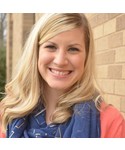 Courtney Reissig
Author, Teach Me to Feel: Worshiping Through the Psalms in Every Season of Life
Every parent wants to disciple his or her kids well. Most of us think we have more time, but what if we don't? What if today is what matters and tomorrow isn't promised? Reading Chris Swain's words on discipling our kids in the faith felt like a commentary on a life well-lived. It would be easy to romanticize his final words on discipleship and see them as unattainable, but Swain didn't write that way. He wrote as a parent in the trenches, providing accessible and encouraging tools for parents to use with their kids. I only wish we had more from him. His final work is a gift to parents, like me, who desperately want their kids to know that they love them and God loves them.